Posted on
Assessor's services no longer required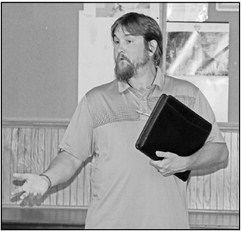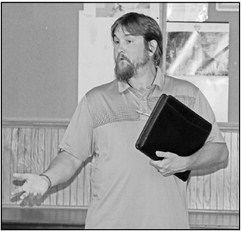 Lake Holcombe Town Board
The Town of Lake Holcombe is heading in a different direction, as far as assessing services are concerned. It was decided June 11, at the regular town board meeting, that Riglemon Appraising Services would no longer be used to evaluate property values.
Claude Riglemon, owner of the assessing firm, uses an older system that is not compatible with what the county uses. The town also has no access to the appraisals that are done.
"We have no records," said town chairman Brian Guthman.
Supervisor David Staudacher said he had to disagree somewhat on the matter of not renewing Riglemon's contract.
"I think he's (Riglemon) done a good job for us," said Staudacher. "We've had very limited complaints. But, I do understand that the antiquated system that he uses, could make some real problems for us."
Guthman also said that Riglemon wanted $54,000 in one year, to complete a reassessment of the town, while Randy Prochnow, of Prochnow Assessing, would charge $17,000 each year, for three years, to reassess the town. Prochnow's normal annual fee for assessments would be around $9,000.
John Bell, resident and former supervisor, suggested that the town might get what they pay for, if they use a cheaper service. Guthman said many neighboring towns use Prochnow and that they seem pleased with the service.
"He (Riglemon) even said himself, that it (town) should be re-evaluted every 10 years, and we haven't done it for 15 or 16," said Guthman. "I think it's time to move on."
The board also accepted a bid for concrete work at the town shop, as the building and parking lot are in need of help.
"Every time it rains, water rolls in through the frost wall of the building cracks and runs across the floor," said town roadman Ben Jordan.
To help with the water issue, the town will put a curb along the building and redo the parking lot. Members received one bid, from TRH Concrete Services in Holcombe, to install an 80-foot curb, with water stop, along the building for $1,200; an 80-foot road curb for $1,680; fix the 108x12 alleyway area for $7,128; and fix the 38x80 front apron for $16,720.
The project cost would be $26,728, with members talking about also adding spray foam around the building foundation. Gravel for the project would come from the town's stockpile.
Swimming lessons at the Wayside Park, were also given the go ahead for free instruction for Lake Holcombe, Ruby, Birch Creek and Willard residents, July 6-9, and July 13-16. A fee is charged if someone is not a resident.
Class sizes will be limited to 10 kids for safety reasons, so spots are on a first-come, first-serve basis. Each child must be at least four years of age and be accompanied by an adult for the entire lesson.
Guthman says he is concerned over COVID-19 social distancing guidelines, but feels lessons should continue as usual and that it is up to parents if they want to bring their kids.
"I think the swimming lessons are more important than social distancing," agreed Staudacher.
Registration will take place Friday, June 26, from 4-6 p.m., at the town hall.
Members also discussed whether or not they would issue a new liquor license, as a former board had stated they would not hand out another license for a bar. However, that's not what Bill Carlson has in mind, as he is looking to go into business with his cousin and run a wine bar concept on State Hwy. 27.
Carlson says the wine place would not be people hanging out late at night, but would have a relaxed atmosphere for a quieter crowd. Carlson said he would like to keep liquor sales in the town, rather than have people heading out of the area for a larger selection of alcohol.
Red Schoolhouse Wines in Stone Lake, is a blueprint for the business, which has boutique sales and off-sales of liquor.
"That's just kind of the general concept," said Carlson.
Tracey Larson, town clerk, said the town has the ability to pass an ordinance to allow unlimited off-sales of liquor, something that would be a must for the proposed wine bar.
"This is the first step," said Carlson of approaching the board for their thoughts on the matter.
"I'm pro-business anyway, you know," said supervisor Doug Carlson, "so I like this concept. It's more eclectic."
"It fills a void in the area," said Carlson.
The board agreed a business plan must be presented, before passing a motion to create an ordinance. Carlson said he would work on a plan and get back to the town at a later date.
Members also reviewed a Conditional Use Permit for the Gulich Pit on 295th Street, operated by Haas Sons, after a nearby resident questioned why the company hadn't blacktopped the entrance to the site like they said they would in their agreement. Jason Haas, company representative, said they intended to put down crushed blacktop to cut down on dust.
"We'll take care of it if it's a problem," said Haas, adding he is surprised at how much gravel they have been able to take out of the area.
"Having that pit there has helped out the town, too," said Guthman, as Haas often submits bids to provide gravel, cutting down transportation costs.
During his chairman's report, Guthman mentioned that with the recent heavy rains and chasing down floating docks, A& D Docks has not been able to fix the handicapped dock at the Wayside Park.
"Things come up," said Guthman.
Guthman says he did receive an email from the Lake Holcombe Improvement Association (LHIA), offering to pay for repair. Guthman says money is not an issue, as they do have funds for dock upkeep.
However, with the board's approval, he asked that he suggest the LHIA donate funds for a security camera system to be installed by the dock and pavilion/bathroom.
"We've had all kinds of problems with people going into the bathrooms and causing trouble," said Guthman, who also said people have been randomly depositing garbage in dumpsters. "Let's get a decent system that works."
As for the recent Recycle Round-up, Guthman suggested that the town may want to limit the amount of tires they accept for the next time.
"We're paying for all those tires and we're not even breaking even, hardly, on it," said Guthman.
"You never have broke even," said resident Don Crank.
The town also is going to refuse building materials, as some were dropped off with boards that had nails in them.
"We took it…because a certain person said, 'Well, I'm just gonna dump it somewhere then,' so we took it," said Larson. "Otherwise, we probably would have found it in a ditch somewhere."
Guthman said from now on, the town will specify no building materials will be accepted.
"Otherwise, I think that (round-up) went fairly good," said Guthman.
Another item of business that was taken care of, was that personal items have been parked or thrown in the town's right-of-way.
"We've got several issues with that," said Guthman.
In the past week, someone had parked a fifth-wheeler for an extended period of time on the roadway, but Guthman told the owner he needed to move it. Another instance, was that some people who have cut brush and trees, threw what was left on the other side of the fence into the ditch.
"If someone runs off the road into these logs that are in the ditch, is the town liable?" said Guthman.
The board agreed to send letters to the property owners, informing them they need to clean up the ditches.
Guthman also says he has received many calls about campers and campgrounds having multiple people on the premises, but says there is legally nothing he can do about that.
"At this point…there are no ordinances that say how many people can camp in somebody's yard or set up," said Guthman. "I don't think there is any place around here that has one (ordinance)."
Guthman did have good news to report about the town yard waste disposal site, which was closed on order of the DNR.
"We did get all the signatures for that updated," said Guthman.
Although signatures have been received from nearby residences, giving permission to re-work the site, wet weather has hampered efforts to revamp the site. The town's goal is to get the dumping site done by fall, so leaves can be brought out and disposed of.
As the time draws near, Guthman said the annual July 4 fireworks display has not been addressed – at least not by the board. Sponsored by the Lake Holcombe Resort and Business Association, the display takes place at the Wayside Park.
"We'll have to get on that, because…they're going to have to do more than they did last year," said Guthman, adding that he and Jordan did most of the work for the display last year.
The road going by the Wayside, would also need to be closed for a period of time the day of the display.
Now that restrictions have been lifted, the annual town meeting is set to take place Thursday, July 23, at 7 p.m., at the town hall.
[caption id="attachment_67892" align="alignnone" width="242"]
Bill Carlson brings forth a request June 11, for the Lake Holcombe Town Board to consider granting a new liquor license. Along with his cousin, Carlson wants to start a wine bar in Holcombe, to give more variety to the area. Photo by Ginna Young[/caption]