Posted on
Spath pleas to amended counts, sentenced to probation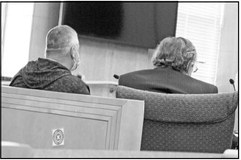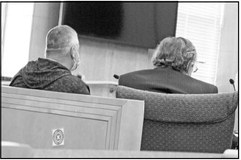 Charles Spath, 47, Cadott, was sentenced as part of a plea hearing, June 3.
Spath faced one count of Second Degree Sexual Assault/ Use of Force and one count of Sexual Intercourse with Child 16 or Older, Actor 19 or Older.
The charges stem from an incident that took place in the Town of Sigel.
Wade Newell, state representative, said the first count would be amended, as part of a plea agreement, to Fourth Degree Sexual Assault. The second count remained as is.
"It's my understanding, that then we are both going to argue the sentencing," said Newell.
As part of the plea, Newell said one count of Bail Jumping- Felony, from another case, would be dismissed and read in.
Spath pled no contest to the amended Count 1 and Count 2 charges. Judge Steven Gibbs accepted the plea and found Spath guilty of the two charges.
From there, the attorneys gave their recommendations for sentencing.
"The state is asking for 18 months of probation, on both counts," said Newell.
Newell also asked for conditions, including that Spath would have to undergo any treatments recommended by his probation agent, that he have no contact with juvenile females and that he serve 90 days in the Chippewa County Jail. Newell said his reasoning for the jail time is the large age gap between Spath, who was 45 at the time of the incident, and the victim, who had just turned 16.
"Obviously, there was much more serious charges that the defendant was facing," said Newell. "He said it was consensual. The young girl said it was not consensual."
Newell said the amended charge was an effort not to go for an all or nothing situation.
Defense attorney Francis Rivard said he agreed with Newell that probation is appropriate. He said he would like to see less than 18 months probation, but said 18 months wasn't an unreasonable request by the state.
"I disagree with the jail time," said Rivard.
Rivard gave some background on Spath, saying he has been employed, raised a family and has a number of hobbies. He also noted that Spath has had some recent medical concerns and has frequent doctors appointments.
Rivard also talked about the case that is being dismissed. The defense attorney said Spath was around a juvenile female, but there were two other males (Spath's son and a friend of the son) in the room, one of whom was dating the girl.
"They had no transportation," said Rivard, referring to the young people who stayed with Spath. "It was cold out."
Rivard asked that the court not order jail time, since Spath didn't have a criminal history and only had the one incident during his bond, which he explained the circumstances for.
"If the court believes that jail time needs to be in the picture, what I would ask the court to do is to consider, even if it is 90-day jail time, to be...subject to further court orders, stay that period of time," said Rivard.
Rivard said the probation agent could let the court know if Spath did not follow orders and Spath could be incarcerated.
"These are always troubling cases for the court when I have to make a decision regarding this, because it really troubles me with the difference in ages here," said Gibbs. "With that being said, you've taken a plea. You've accepted responsibility."
Gibbs withheld the sentence for both counts, placing Spath on probation for 18 months. Spath was also sentenced to 90 days in the Chippewa County Jail, to be used at the discretion of Spath's probation agent.
"If you were sentenced to it right now, you'd have it with Huber and most likely you'd be out," said Gibbs, "so I don't see the purpose of serving the jail time right now."
Spath is also to complete any counselling, treatment or assessments that his agent deems appropriate. He is also to pay $443 in court costs for each count.
Spath is not to have contact with any juvenile females. He can visit his juvenile daughter with supervision, unless his probation agent deems that the visits do not need to be supervised.