Posted on
Gilbertsons, board on different page with bus payments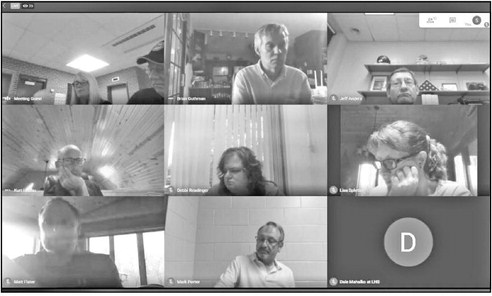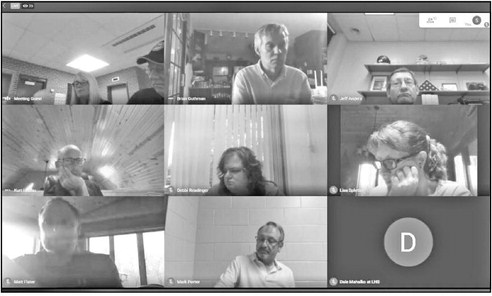 School buses aren't running, so should the busing company get paid during that time? That was a question that came to the Lake Holcombe School Board April 30, during a regular meeting.
Bus transportation is provided by Gilbertson Transit, and owners Paul and Julie Gilbertson asked the school to pay them for the regular transportation that would have occurred this spring, if not for the closure of the school, because of the COVID-19 health emergency.
Superintendent Kurt Lindau said the school usually only has to concern itself with a lapse in transportation, because of snow days.
"The contract language doesn't appear to guarantee a minimum number of days of payment," said Lindau. "Of course, no one expected extensive closure, due to a pandemic."
The Gilbertsons asked that the school pay about $115,000 for the regularly scheduled bus routes.
"They (Gilbertsons) are nervous about being able to meet their obligations with their expenses and their employees," said Lindau. "And…we're concerned that they'll be here for us in the fall when school resumes. My experience with drivers is that they do not grow on trees."
Board clerk Jeff Anders says his biggest concern, is the fact that the board is spending taxpayer money.
"That's what makes it such a hard decision, because we have to make sure that we are receiving a service for every dollar we spend," he said. "We can't just make a payment for nothing."
J. Gilbertson said the payment would not be for nothing.
"It takes a lot for school buses to run," she said.
She says even with the buses parked, they have to be maintained, especially if they sit over a long period, as well as upkeep to the bus garage.
"Whether they (buses) run or don't run, we base our budget on that they're going to run," said J. Gilbertson, "because this has never happened before."
Anders said he is not questioning the company's expenses, that he was just questioning that the school would not receive a service they paid for. Anders pointed out that state statutes say a school district has to receive service, in return for payments.
J. Gilbertson said other local districts in the same boat, are making payments, to which Anders replied that is per contract, for x-number of days.
"We tried doing that, but to no avail," said P. Gilbertson of having a minimum amount of days contract.
P. Gilbertson said when he and his wife learned the school was going to counting hours instead of days, they asked to have a minimum amount of days specified in a contract, but that the idea was nixed.
"There's no way we can pay our drivers in the fall," said P. Gilbertson. "There's no way we can paint the buses up to make them look good enough to have our name on them. I think we've done a pretty darn good job of representing the school on all these trips and all our activities."
J. Gilbertson agreed and said the couple even took back the business when Jeremy Childers couldn't make a go of it a couple years ago. She said when buses go on field trips, she and her husband are very proud to know the buses look good.
"That doesn't represent Paul and Julie Gilberston, when that bus is sitting in another town," said J. Gilbertson. "That bus represents the school, it represents our town."
J. Gilbertson said she and P. Gilbertson have "eaten" a lot of expenses with changes over the 34 years they've had the busing company.
"What you're asking is not unique to Lake Holcombe,
See BUS TRANSPORTATION/ Page 3 given the situation," said Lindau.
Lindau had asked the couple to put together accounting of what the regular routes would have raised through revenue from the school district through the end of the academic year. Lindau also looked at what some districts in the state are doing in the same situation.
Although most northern districts did not have figures available, many southern districts showed what their boards agreed to. Some are paying the full amount, while others have approved varying percentages, while still others are not paying anything.
With the numbers in front of them, Lindau said the decision comes down to several options.
"Do you want to pay 100 percent of that (requested amount)?" he asked. "Do you want to pay a certain percentage of that, in hopes that revenue is going to get them through the summer to Sept. 1, when we're going to need them?"
J. Gilbertson said they are paying drivers in the hopes to retain them for the fall, and though the company did apply for CARES Act money, the amount received is based on a 12-month payroll in 2019, of which the Gilbertsons only had four months of payroll, which means they didn't qualify for as much funding.
Lindau said the board would need a revision to the busing contract, with a change of wording. He also pointed out that the school cannot pay for routes dealing with after-school, as that program is financed through a grant.
"I guess I feel we need to give them something," said board member Debbi Readinger. "We have to figure something out, because we want them there."
Brian Guthman, board president says he is concerned how busing will look this fall. He mentioned that the school may have to bring in half of the kids every other day, to keep them social distanced on a bus.
"It will still be the same number of miles, but…I don't know what it's going to look like," said Guthman.
Board treasurer Anneleise Willmarth asked how the district will be affected on funding they receive to help pay transportation. Lindau said funding is not based on number of miles, but is based on the number of students who ride a certain number of miles. He says he has not heard of anything that is going to affect revenue for this year, although that may change for next year.
"Paul and Julie have done a very good job for us over the years, and I thank them for that," said Anders. "And believe me, the last thing I want to do is see the company fail."
With that in mind, Anders made a motion to pay 80 percent of the cost of rates (roughly $88,000), based on how many school days would have required transportation and the set miles, minus the fuel surcharge. Lindau said if the motion passed, he and the Gilbertsons would need to sit down, and be absolutely clear on what the costs would mean, and write specific language for the changes, which would be reviewed by the school's attorney.
"I don't know if we'll survive that or not…I don't know if that'll give us enough money to survive," said J. Gilbertson, adding that some drivers have worked for them for over 30 years, and that payroll is coming out of the couple's pockets. "We do what we can for the people that work for us."
J. Gilbertson says she understands it's a hard decision for the board to make, and asked members to consider that her husband does a lot for the school and works a full-time job, in addition to the busing company.
"We're not looking to get rich on this thing, we're just looking to keep going," said P. Gilbertson.
J. Gilbertson says they took off everything "extra" for figures.
"That's the best we can do," she said.
Voting on the motion, there was one in favor (Anders) of paying 80 percent to the bus company and three opposed (Matt Flater, Readinger, Willmarth). Because the motion failed, members asked that some solution be further discussed.
The board agreed to appoint Flater and Readinger to meet with the Gilbertons, which could possibly require having a special meeting later on.
"Certainly, nobody wrote the playbook for how to handle this one," said Lindau.