Posted on
The milk challenge is on!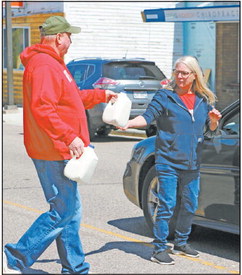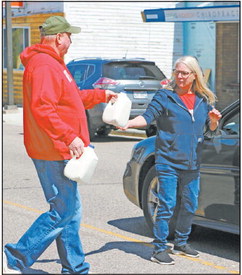 "You want some milk?"
Cries rang out April 24, on Cadott's Main Street, as gallons of milk were given away to anyone who wanted it, courtesy of Boyd Catering, Rick's Hallway Hall and Hallie Kwik Trip. The 150 gallons of Wisconsin-produced milk, were handed out to passersby, as part of a 100-Gallon Milk Challenge.
The challenge came about, after Rick Goettl, owner of Halfway, saw a segment on TV about a guy in Green Bay, who purchased milk to donate and challenged others to do the same. With less demand for milk and prices so low, farmers are dumping their milk across the state, because there is no market for their product.
"He (Rick) give me a call and he said, 'What do you think about giving away some milk?'" said Jeff Zais, owner of Boyd Catering. "So, we met the challenge. Mostly, we're trying to help the farmers out."
Goettl and Zais each purchased 50 gallons of milk, while Kwik Trip donated 50 more gallons, after Goettl called and talked to the district manager. The manager loved the idea and put in an order for the extra milk.
"It was pretty slick," said Zais of how it worked out. "I think the people appreciate it. I know it makes us feel pretty good to do this."
The milk was bought to give to the Cadott Food Pantry, but with a lack of storage, the volunteers saved enough back
See MILK CHALLENGE/ Page 8 for patrons, then started handing out gallons to anyone walking or driving by.
"It's wonderful for our people," said food pantry director Jean Carlson. "Isn't it better to let our children and our people have it, than to be dumping that milk?"
Zais says he and Goettl have many farming friends, and that the farming community needs help as much as anyone else during hard times.
"They're (farmers) hurting just as bad," said Zais. "They're the backbone of our country."
Zais says he and Goettl would like to see Boyd, Stanley, Holcombe, Cornell and Chippewa Falls, pitch in to help out their local farmers.
"We hope the challenge doesn't stop here," said Goettl.
Doing their part to help Wisconsin farmers, left to right, are Quentin Goettl, Skylar McNamara, Jeff Zais and Rick Goettl. The volunteers handed out milk to anyone who wished to take it, as well as supplying gallons to the Cadott Food Pantry.
Photo by Ginna Young