Posted on
Abbiehl's future decided during sentencing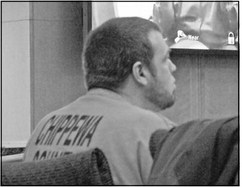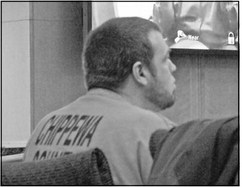 The next step forward for Travis Abbiehl, 37, Menomonie, was discussed during a sentencing hearing April 27.
Abbiehl was previously found Guilty, but Not Guilty, Due to Mental Disease/Defect, of one count of First Degree Reckless Injury by Use of a Dangerous Weapon, and one count of Second Degree Recklessly Endangering Safety. The charges stem from a 2018 incident, where Abbiehl stabbed Chippewa County Sheriff's Deputy Andrew Clark.
"We have two, I guess, unresolved things that bring us here today," said Wade Newell, state representative. "One is to determine the length of his (Abbiehl's) commitment and the other is to determine where he will be originally placed."
The attorneys started by discussing what they thought the length of commitment should be. Newell noted the maximum length of commitment is 25 years, with 20 years for the first count, and five years for the second count, consecutive.
"The state is requesting the full 25 years of commitment," said Newell. "As the court is aware, just because the defendant is committed for 25 years, doesn't mean he will be in an institution for that full 25 years."
Newell said, based on reports he has seen, that the outside assistance would benefit Abbiehl and make the community safer.
Defense attorney Richard Yonko argued the state's stance implies Abbiehl has no rehabilitative needs.
"The reports filed with the court suggest otherwise," said Yonko. "That is why we are asking the court for a total institutional commitment period of three to five years."
Newell said the court can't order how long an individual is institutionalized, only how long they are committed, meaning the time the defendant is under the supervision of the Department of Health Services.
Yonko pointed out a number of struggles Abbiehl faced and continues to face, including mental health issues, learning issues, and drug and alcohol use, but also pointed out Abbiehl's successes. Yonko says Abbiehl has maintained an apartment on his own, obtained a GED and maintained a job, sometimes working over 60 hours a week. He also noted Abbiehl has done well while participating in mental health programs tailored to his needs.
"I know, Judge, that Mr. Abbiehl will have a substantial amount of structure going forward, and he understands the need for that structure," said Yonko.
Yonko also requested that the court order Abbiehl to Mendota Mental Health Institute forthwith, regardless of how long of a commitment the court decides on.
"To my mind, he (Abbiehl) has expressed forward thinking regarding his mental health, in terms of his desire to be committed," said Yonko, "and he understands the benefits that can come from continued treatment."
Yonko also added Abbiehl will need a Certified Deaf Interpreter and American Sign Language Interpreter.
Newell and Yonko agreed initial institutionalization is the best way to address Abbiehl's rehabilitative needs.
Judge Steven Gibbs asked if Abbiehl could petition to terminate the commitment early, if he is doing well. Newell said Abbiehl can petition for termination of commitment and can also petition for release from institutional care.
Gibbs says he understands Abbiehl's limitations and disabilities, and empathizes with the daily challenges he faces. The judge noted it appears, when the defendant does well, he doesn't listen to his doctors and stops taking his medications, something Gibbs said is common.
"So, of everything that we are doing today, I want Travis to know that he needs to follow his doctor's orders, and prescriptions and medication recommendations, even if he feels he is doing really well," said Gibbs.
Gibb's said Abbiehl's actions in 2018 were extremely serious. After taking into consideration the reports, the seriousness of the crime and Abbiehl's mental health history, Gibbs ordered institutional care at Mendota Mental Health Institute.
"There is no evidence before the court that conditional release is appropriate in this case," said Gibbs.
Gibbs said the structured setting will help Abbiehl and said he is sure Abbiehl will do well getting the help he needs. Gibbs says the amount of time Abbiehl spends in the institution depends on how he responds to treatments and if he takes his medications, as prescribed.
"The real test is when you are released and you continue to do what is recommended by your doctors,"said Gibbs.
Abbiehl's commitment is for 10 years on the first count, and five years on the second count, consecutive to each other. Gibbs also ordered that Abbiehl is incompetent to refuse medications and approved court-ordered medications.
Abbiehl has 595 days of jail credit, and is not allowed to possess firearms. Abiehl's phone and $300 in seized property was ordered to be returned, after the appeal period is complete.
"Travis, I want you to do your best to be the best person you can be," said Gibbs. "Listen to your doctors, take your medications, because nobody should ever have to go through what Officer Clark went through."