Posted on
Winchell sentenced for sexual assault plea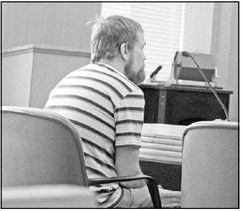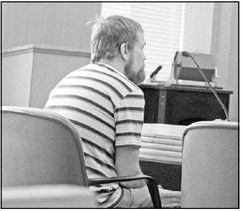 Craig Winchell, 38, Eau Claire, was sentenced Jan. 10.
According to online court records, Winchell pled no contest on an Alford basis to one count of 3rd Degree Sexual Assault, in October. The court accepted the plea and found the defendant guilty.
The charge stems from a November 2017 incident, where Winchell was accused of sexual contact with a male child, when the child was visiting family in Cornell.
A pre-sentence investigation was ordered at the October hearing, to be considered during sentencing.
Winchell was informed of the maximum penalty for the charge, which is 10 years in prison and a fine of $25,000.
Judge James Isaacson noted that the Department of Corrections (DOC) pre-sentence investigation recommends a withheld sentence, placing Winchell on probation for four years, with one year in custody as a condition.
"Your Honor, the state is going to deviate substantially from the pre-sentence investigation," said Wade Newell, state representative.
Newell said the state is requesting a sentence of five years imprisonment, with three years of initial confinement, followed by two years of extended supervision. He said the reason for the different sentencing recommendation, is the pre-sentence investigation stated there were no aggravating or mitigating factors.
"I guess I think there are a significant amount of aggravating factors," said Newell.
The first factor, was Newell said the defendant was showing no remorse and not owning up to his actions. Newell said the second factor is that multiple allegations have been made against Winchell, spanning from when Winchell was a juvenile until now, including one incident that took place when Winchell was 14 and his cousin was 5 or 6 years old.
Newell also talked about other allegations made against Winchell.
"The average person doesn't even have one allegation against them, let alone three," said Newell, adding that he thinks the prior allegations are an aggravating factor.
Newell says he is not sure how they can say probation is appropriate because Winchell would get counseling for something he says he didn't do.
"I don't know how he's going to benefit from counseling when continuing to deny that he did anything wrong," said Newell, asking what services probation could actually provide to Winchell.
Newell says he thinks the community has to be protected.
Defense attorney Robert Thorson noted that Winchell was in foster care in eighth grade and got bounced around through high school. Thorson says he thinks Winchell has the ability to get a GED and said, based on the pre-sentence investigation, that Winchell is employable. Thorson also noted that Winchell has not struggled with addiction in recent years.
"We entered an Alford Plea," said Thorson. "So, I don't think my client is in denial on this. He knows he's been found guilty. He also knows he has a consequence for it."
Thorson says the recommendation in the pre-sentence investigation is not a short amount of time, and shouldn't be.
For rehabilitative needs, Thorson says programming through the DOC may help the defendant identify risky behavior. As a personal observation, he said Winchell may benefit from getting insight into the way his past is influencing him now.
Thorson noted the pre-sentence investigation says the programming can be accomplished in the community.
"I think that's consistent with what his strengths are," said Thorson.
Thorson also noted indicators in the pre-sentence investigation showed Winchell's risk of recidivism is low, before asking the court to go with the pre-sentence investigation's recommendation.
Isaacson told Thorson he agrees that the court has given the DOC authority to make recommendations because they have expertise.
"I've also been advised in the past, in these kind of cases, sexual assault-type cases, the defendant has to accept responsibility before he can be successful during counseling," said Isaacson.
Isaacson said if he withholds the sentence and puts him on probation, there will be requirements that Winchell goes to counseling for sex offenders. Isaacson questioned if the counseling would be effective, or if they would be right back in court sentencing in revocation.
"This is an issue that may be blocked by some other issues before," said Thorson, adding he does think Winchell needs to address risky behaviors. "And I do think, through the Department of Corrections, they're able to best address them in the community."
Isaacson says he has also read two victim impact statements, one from the victim and one from the victim's father, and will consider those, as well.
"Every defendant's sentence is unique for them," said Isaacson.
Isaacson said the victim and his family has asked for jail time and counseling, and he intends to do all of that. He also noted that Winchell's behavior has been better, as far as the legal system is concerned, over the past 14 years.
"I think it's aggravating, the act you committed, because of the impact it had on a 10 year old," said Isaacson, adding that is not a normal experience for a child.
Isaacson also said he is concerned by Winchell's lack of culpability.
The court went on to say he is supposed to consider probation as a preferred disposition, unless he needs to confine Winchell to protect the public from further activities, treatment could best be met in confinement, or probation would unduly depreciate the seriousness of the offense.
"The seriousness is a 3rd Degree Sexual Assault," said Isaacson. "You're going to have to comply with sexual registry demands, no matter what I do with you. You're going to be under somebody's thumb for at least five years if the department's (DOC) suggestion is followed."
Isaacson reiterated to Winchell that if he did not follow the counseling required for probation, Winchell would go to prison anyway.
Isaacson said he would go along with the DOC's recommendation, since they are supposed to advise the court with the appropriate resolution.
Winchell's sentence was withheld and he was placed on probation for four years. As a condition of probation, Winchell is to serve one year in jail. There are no Huber privileges for the first 60 days, but Huber is allowed after that.
Winchell is also to have no contact with the victim or his family or contact with anyone under the age of 18, unless his probation agent allows it. Isaacson says that also applies to Winchell's own children. Winchell also has to comply with the Sex Offender Registry Program and complete all programming recommended, and pay all court-ordered fees.
"Please prove it to us all that they aren't misplacing their trust in you," said Isaacson.