Posted on
Water problems continue to be an issue on Woodside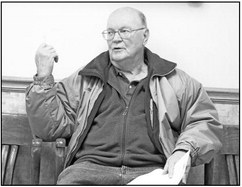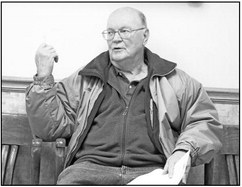 Cornell City Council
"It's worse this year than it's ever been," said Cornell resident Tom Finses.
Finses appealed to the Cornell City Council at a regular meeting Jan. 2, asking that something be done about wet problems on Woodside Drive. A couple years ago, Finses approached the council about the issues and a catch basin was installed, which seemed to help somewhat with water pooling on the street.
This time around, Finses says several residences on the street have had trouble with slushy snow deposited in their driveways and questioned why the city is not following their normal pattern of clearing snow to the middle of the road, then hauling it away.
"It's not bothering the people down the street, but it's bothering us (Lots 3, 4, 5)," said Finses.
Finses says slush goes into the driveways and if the people don't get out right away to shovel, the wet snow freezes, making it almost impossible to shovel out.
Mayor Judy Talbot said the slush is caused because Cornell has gotten very wet, heavy snow of late, with rain coming beforehand.
Finses says he thinks a catch basin is plugged up with leaves behind one of the houses and suggested adding a screen to catch the leaves, or installing curb and gutter, as a large amount of water runs off Osborne Street.
"There's an inlet on that corner," said Derek Braun, Cornell City Works/Utility superintendent.
"But there's nothing going down there," said Finses.
Braun said the city could install a domed lid, but that it would be only semi-effective. Finses says, his reasoning is, if there was a dome, he could see if the basin is plugged up and could clean it out.
"I think you're underestimating how much water has been in these two snowfalls," said Braun. "They're insanely wet. We haven't been able to push snow where we normally would."
Braun said the city crews hadn't picked up snow on Woodside at the end of 11-12 hours, because they knew they could set off removal until the next day.
"It may be a slight inconvenience here and there, we'll get it cleaned up," said Braun.
"I understand your frustration, because I have had to shovel… every time they go past, I have had to re-shovel," said council member Ashley Carothers.
Carothers says shoveling out driveways and mailboxes is part of living in Wisconsin, and that the city cannot control
See CORNELL CITY COUNCIL/ Page 3 where snow falls, which dictates how the roads are plowed.
"We are on one of the wettest years on record, too," said Braun.
Braun said he will double check the catch basin to make sure it is not clogged and that the city plans on plowing how they normally do, with normal snowfalls. Finses says that is what he wanted to ensure and that the council understood the problem going on.
To help solve further water issues on the street, council member Floyd Hickethier suggested, because it is "all swamp" on the east side of the street, if the city could find a way to drain the low-lying area. Braun said if the area Hickethier is talking about is not a right-of-way, he's not sure how they can accomplish the draining.
"It's something we'll have to deal with in the spring," said Talbot.
Finses said he understood that and wanted to thank members for their time.
Talbot said everyone in town had issues with the last two wet snowfalls and that plowing was not the issue, as conditions were beyond the city crew's control. She also said with a normal snowfall, the catch basin should have worked.
"But this is not normal," said Talbot. "If we get a decent snowfall, that's a normal snowfall, let's see what happens."
Members did decide to appoint operator in charge positions for the utilities. Dan Burns, retired Cadott operator, was acting as the city's temporary operator, but with certifi cations taking place in-house, members agreed to have those employees take over the positions.
Scott Thompson was named as the wastewater treatment plant operator in charge, while James Schoonover was named as the water utility plant operator in charge, with each receiving a $1/hour increase.
"They're at both of them (plants) daily, anyway," said Braun.
Hickethier said he likes the fact that the money the city pays for the services stays in town and that there are employees familiar with the systems.
"It gives them more responsibility," agreed city administrator Dave DeJongh.
DeJongh says the city works department will also keep basic operators on hand, so operators in charge certification could be obtained simply, if needed.
The council also was informed of part-time police officer Barb Close's retirement, which was effective Jan. 1, after she served many years in Cornell.
I want to thank you for the time I was able to work for this department, wrote Close in her resignation letter.
Close says she learned a lot on her journey she spent with chiefs, officers and other employees.
There is nothing I would want to change of the time I spent with this department, said Close. I trust the friendships I have developed will last well into the future. It has indeed been an amazing journey. I thank you all.
Talbot wished Close well and said she hopes she enjoys her retirement.
"[We're] certainly going to miss her," said Carothers.
Although nomination paper filing is now closed for the spring election of council members, if someone did not take out papers, but still wants to run for open seats, prior to the election, they can register as a write-in candidate at the city office.
"There is an opportunity, you are not out of contention," said Talbot.
DeJongh says unless someone is a registered write-in, if there are enough candidates, the write-in's votes will not count.
DeJongh also reported that, because he is possibly taking on more duties in his full-time job, Jacob Fosbinder has resigned as the city's non-uniformed dwelling code building inspector. As inspector, Fosbinder made sure setbacks were correct, when someone made an addition to a garage or deck, and that they were following building plans, according to city ordinances.
If anyone is interested in the position or knows someone who may be interested, the mayor is looking for someone to appoint to the open spot.