Posted on
School forest could see makeover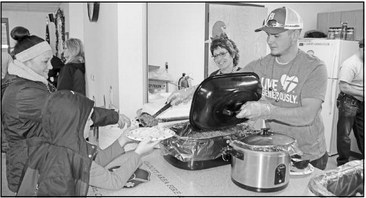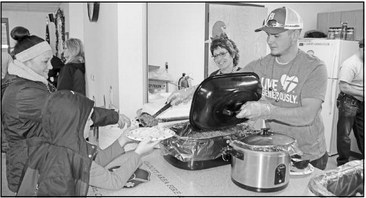 Cadott School Board
Organizer of the Spaghetti with Santa event, Payton Freagon, serves sauce, while his mom, Barb Freagon, dished up spaghetti. Garlic breadsticks and a variety of desserts were also served at the dinner.
The school forest may begin to look different over the upcoming years, after the Cadott School Board approved a resolution to update the school forest plan, during a regular meeting Dec. 9.
District administrator Jenny Starck says the district has a plan created with the DNR, which deals with logging off and replanting sections of the school forest to keep it healthy.
"It had some benchmarks of logging that would be done that weren't necessarily completed," said Starck.
A resolution for the school forest plan was created to register the forest as a DNR school forest and work with the DNR forester to keep the plan up to date. Starck says grants may also be available in the future to plant trees for free or a discounted price.
"What we're trying to do is revitalize that plan and get back on track a little bit," said Starck.
Board member Brad Sonnentag asked if there was any cost to be in the program. Starck says there is no cost for
Kayla Siddons twirls pasta around in sauce before diving in, along with many others who came to support fundraising efforts. To keep kids entertained, a face painting station was set up, as well as a "letter to Santa" table, while adults were kept happy watching the Packers game on the large monitor. A Life Link helicopter was scheduled to make an appearance, but because of low cloud cover, the pilot couldn't take off from Rice Lake.
DNR assistance, if the forest is part of the DNR program.
Alan Sonnentag, board member, asked if there are any disadvantages. Starck said it is not really a disadvantage, but because the district is behind on cutting and replanting trees, some sections will look different.
"Some of them (sections) are going to have quite a bit of cutting in there and then quite a bit of replanting," said Starck.
A. Sonnentag also asked who would do the logging. Starck said the district will probably ask for proposals once they know which sections need work. Income from the school forest stays in a school forest fund.
Members voted in favor of the school forest resolution.
In other business, members approved the second reading of a number of policy changes, including one that increases the number of elective classes students must complete to graduate.
Members also approved creating an assistant archery adviser position, during the consent agenda.