Posted on
Spaeth moves from Hornet to Gopher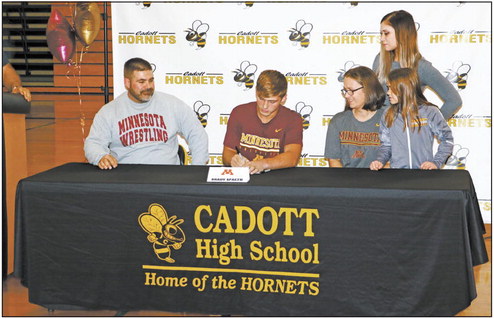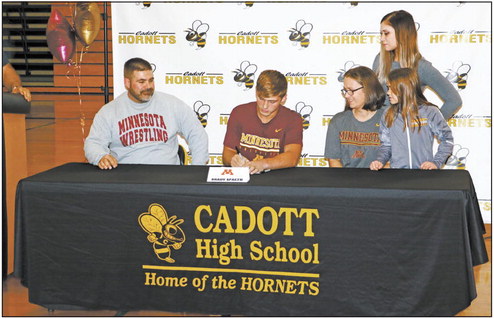 Cadott senior Brady Spaeth has put in a lot hard work during his high school wrestling career, which made him a Division 3 State wrestling champion last year, but his hard work has paid off even more. Brady officially committed to the University of Minnesota Nov. 14, to become a member of the Gophers wrestling team.
To seal the deal, in front of his family, coaches and friends, Brady signed a letter of intent to wrestle for Minnesota, something that was celebrated by many in the school and community. Some who attended the signing, took off work and came from a distance to see Brady make the first step to the higher level.
Jon Erickson, a coach of Brady's, has known the youth a long time and says he noticed something different about him right off.
"He was a competitor, you could see it in his eyes," said Jon. "What truly stands out to me, what separates him, is his mental edge or his mental fortitude."
Coming from a wrestling background and having his father, Josh, for his high school coach, Brady's skills on the mat have been honed over the years.
"His talent comes from hard work," said Jon. "You need to effectively practice your skill."
Jon says a successful athlete also needs good mentors,
See HORNET TO GOPHER/ Page 3 coaches, educators and teammates, something Brady has. While Jon says Brady's record isn't perfect, that he's never seen him afraid to wrestle the best, but has instead sought out challenges, that he's never made excuses for losses and never boasted about his success.
"I've never seen him have a fear of failure," said Jon.
Brady's lack of fear has given him an impressive resume, which includes being a seven-time youth WWF folkstyle State qualifier; two-time youth State folkstyle champion; multiple time freestyle and greco State champion; threetime WIAA Division 3 State place winner (including winning State champion with a 46-0 record for 2019); threetime Cloverbelt Conference champion; two-time Northern Badger champion; two-time U.S.A. Wrestling Folkstyle All-American; U.S.A Wrestling Freestyle All-American; 2018 Wisconsin Cadet Freestyle National Team member; and 2019 Wisconsin Junior Freestyle National Team member.
Despite all his accomplishments, Brady isn't looking ahead to what his senior year holds for him, and instead, is hoping his Hornets team make State this season. It could be that dedication to others, that made Brady stand out for the NCAA Division 1 sixth ranked team.
Brady is the most high-flying wrestler of this group, wrote Minnesota head wrestling coach Brandon Eggum. He is athletic, powerful and not afraid to attack. He has a strong work ethic, a desire to be great. We feel like the sky's the limit here at Minnesota.
After touring the Gophers' facilities, Brady knew he liked the coaching staff and the offer they made him, causing him to verbally commit to Minnesota last spring, informing other colleges he was off the recruiting market.
Josh said it takes dedication and "being a little nuts," to make a good wrestler, quoting former coach Pat Mrotek, that "you have to pay the price." Josh says it's not easy wrestling, as an athlete has to get up in the morning, run for 45 minutes to an hour, or do cardio, then go to practice after school for two hours, grab supper, go back and run, then start over the next day, along with watching your diet and keeping up your grades.
It might not be easy, but it's something Brady has embraced.
"We have a saying around our household…Spaeths don't quit," said Josh.
Brady says he is grateful to his parents, family and coaches – at Cadott and Minnesota – for supporting him in his endeavors.
"My dad, for giving me all the opportunities that I have…I think it's awesome," said Brady.
"You have to choose to be rare," said Josh, encouraging others to follow a path of success. "Have a goal, make a commitment, follow your dreams."
Josh says he has taught Brady to respect everyone, but fear no one, and to realize he is owed nothing, that he has to earn it.
"As a father and coach, I can say I'm very proud of this young man Brady has become," said Josh. "I hope he realizes how proud his mother (Amy) and I are of him. Brady, thanks for being you."