Posted on
Programs held to thank area veterans for service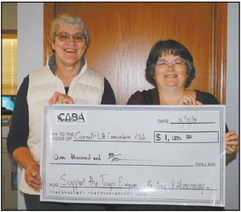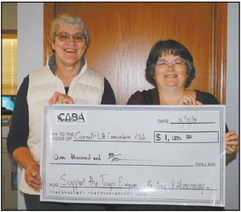 By Ginna Young
Veterans Day is a day set aside to thank men and women who have served their country, and protected the freedoms in this nation. As a way to thank the individuals for their service, three area schools will hold special programs for the public Monday, Nov. 11.
Beginning the day, the Cadott High School invites veterans and Legion Auxiliary members for refreshments at 9:30 a.m. in the gym. Afterward, the public program will take place at 10 a.m.
Once festivities are complete, the veterans and auxiliary members are welcome to stay and eat lunch with the students. If planning to stay for the meal, call Rhonda Pederson at 715-289-3795, ext. 4500, to reserve a spot.
Taking their turn honoring area veterans, Lake Holcombe School will hold a ceremony at 10 a.m., with guest speaker Sgt. First Class Leonard Shier. The high school band will offer a prelude of Freedom, followed by the posting of colors from the local Legion unit.
The National Anthem will then be sung by the high school choir, with the Pledge of Allegiance led by the kindergarten class.
A high school student council slide show will then take place, as well as an elementary student council reading. Once that is complete, words can be shared from veterans in Veterans Day programs
attendance.
The now retired Shier will then talk about his career in the Army, which spans 21 years. Shier has received numerous awards and commendations throughout his time of service.
There will also be time in the program for Jim Mataczynski to share what is in the works for a proposed veterans memorial tribute. The program will conclude with a 21-gun salute by the local honor guard, the playing of Taps by a high school student and the singing of America the Beautiful by the middle/high school choir.
Cornell next plays host to the veterans at 12:30 p.m., at the high school, followed by a short program at the elementary school. Shier will again speak to those gathered, with selections played by the Cornell band and choir.
The color guard will post the colors and student council president Jocelyn Tirrel will serve as the master of ceremonies. Veterans will again have a chance to share a brief summary of their time in the service, prior to a 21-gun salute and the playing of Taps.
The three schools encourage as many people as possible to come to the events, in an effort to thank those who have fought, and continue to fight, to keep the citizens of this country safe and free.