Posted on
Johnson's sentence stayed after plea deal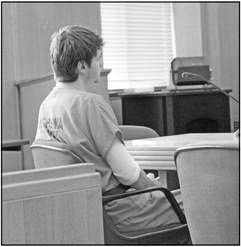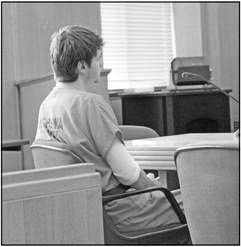 By Julia Wolf
Jamison Johnson, 29, Cornell, pled to charges against him, during a hearing Oct. 31.
Johnson faced one count of Bail Jumping-Felony; one count of Burglary-Building or Dwelling; one count of Theft-Movable Property <=$2,500; one count of Take and Drive Vehicle w/o Consent; one count of Criminal Damage to Property; one count of Disorderly Conduct; and one count of Criminal Trespass to Dwelling.
All of the counts have a repeater modifier, with the charges stemming from an incident in the summer of 2019.
Johnson began by waiving his preliminary hearing.
Roy Gay, state representative, then explained the proposed plea agreement. He said Johnson would plea to the burglary and criminal trespass as part of the deal, and would face five years of initial confinement, followed by five years of extended supervision. The sentence would then be stayed for five years of probation, with conditions.
"So, as far as this is concerned, sir, you aren't going to jail today, and the keys would be in your hands, so to speak," said Judge James Isaacson. "If you mess up on your probation, then we would come back and the sentence is already imposed, it's just stayed. If you don't make any mistakes and follow the rules, five years, you're done."
Johnson pled no contest to one count of Burglary-Building or Dwelling, and one count of Criminal Trespass to Dwelling. Isaacson accepted the pleas and found Johnson guilty of the two charges.
"I intend to follow the joint recommendation, just so you know," said Isaacson.
Defense attorney Francis Rivard noted that Johnson may not have had the same thought process as demonstrated in court, because of a medical issue at the time of the incident.
"I'm taking responsibility for what did happen," said Johnson.
Johnson also mentioned the possibility of disputing the damages assessed in the case at a later date.
Gay said he did not know the defense planned to contend restitution. Rivard clarified the matter, saying the defense would like to see the value of different objects accounted for in the restitution verified.
"Just so everybody is on the same page, I'm going to order that amount, but I'll give Mr. Johnson 90 days, if he wants to file a motion to reconsider that value," said Isaacson.
Isaacson sentenced Johnson to four years initial confinement, and four years extended supervision, for the burgary charge, and one year initial confinement, plus one year extended supervision, for the criminal trespass charge.
Both sentences were stayed and Isaacson placed Johnson on probation for three to five years.
As conditions of probation, Johnson is to maintain absolute sobriety, is not to possess intoxicants or drug paraphernalia, or go anywhere where the primary purpose is the sale of alcohol. Johnson is also to complete any assessments, counseling or treatment deemed necessary, and is not to have contact with anyone involved in illegal drug activities, or have any contact with the victims and their residences.
Isaacson also added a condition to probation that Johnson must continue to take prescribed medications.
Johnson was ordered to pay $8,139.99 in restitution and surcharges. All other charges were dismissed and read in.