Posted on
51st Christmas Parade Dec. 3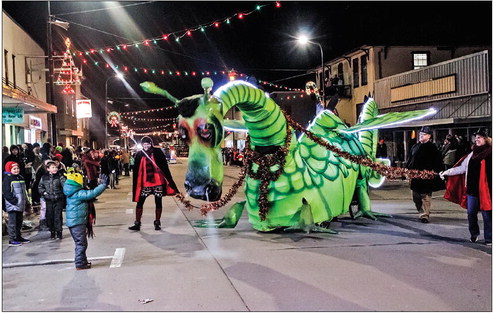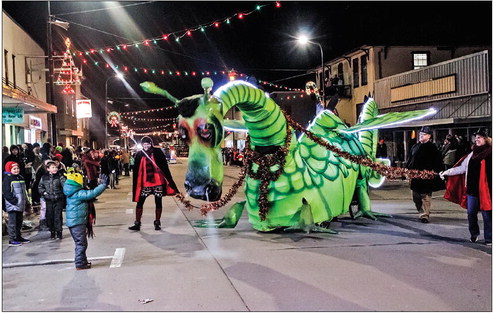 Excitement, beauty and wonderment for people of all ages comes to downtown Abbotsford Saturday, Dec. 3, with the return of the 51st annual Christmas Parade.
This year promises to bring more joy to spectators lining the streets of Abbotsford to see the yearly spectacle, which takes off from the TP Printing parking lot at 7:30 p.m. The event features 45 lighted non-commercial floats and hundreds of favorite movie and book characters and other cartoon and film performers.
Popular floats include Blues Clues, Snow White and the Seven Dwarfs, Sleeping Beauty, Mother Goose, Coco and the Green Bay Packers. Appearances are expected from Santa Claus, Frosty the Snowman, Rudolph the Red Nosed Reindeer and the 40-ft. Puff the Magic Dragon. Over 400 volunteers are needed to make the parade come to life, including more than 250 costumed characters, float pushers, drivers and members of crowd control.
Costume fittings have been taking place since early November. There may still be some characters and other volunteer opportunities available until the day of the parade. Anyone wishing to join the fun can contact parade chairperson Kris O'Leary at 715360-0901.
O'Leary said the parade route will once again run east on Spruce St. to Second St., then turn west on Birch St. to First St., and then head south, back to Spruce St. Bathrooms and warming areas will be available during the parade at City Hall on First St. and 3:16 Church, formerly known as North Ridge Church, on Second St.
Spectators will have the opportunity to purchase raffle tickets for prizes from vendors along the parade route before the event begins. Prize drawings will be held following the parade. Raffle ticket sales have been the main revenue generator supporting the Christmas Parade since its inception in 1971.
Prizes this year include: Grand Prize, $1,500 (donated by MH Construction/ Mykhail, LLC); Yeti Cooler stocked with $1,000 in meat (donated by Nicolet Bank); Pellet Grill (donated by Smith Bros. Meats and Maurina-Schilling Funeral Home); $500 prepaid Visa gift card (donated by Forward Bank); $500 MasterCard gift card (donated by AbbyBank); New Holland corn hole game (donated by Cherokee Garage); $200 Yard Stone gift certificate (donated by Baumgartner's Lumber and Material); $200 Visa gift card (donated by Royal Credit Union); $200 gas card (donated by WKEB-WIGM Radio); $100 gift card (donated by Taylor Credit Union); $100 in Chamber Bucks (donated by First City Dentistry); and $100 in Chamber Bucks (donated by Century 21 Dairyland Realty).
Many other events are taking place that day, including Abby Lions Club soup (Abby City Hall, 9 a.m. until gone); a vendor and craft show (Shoppes on Candy Cane Lane at Abby City Hall, 9 a.m.-3 p.m.); Photos with Santa Claus (Abby City Hall, 10 a.m.-2 p.m.); a Cookie Walk at Christ Lutheran Church; a Scholastic Book Fair at the Abbotsford Public Library hosted by the Abby PTO; and Lunch with Santa (Colby High School Cafeteria, 11 a.m.-1 p.m.). Lunch with Santa features a free lunch (with a canned goods or cash donation to support area food pantries) and a hot cocoa bar. Activities and games will be available, along with photo ops with Santa.
Bring the whole family, bundle up and enjoy the magic of the Abbotsford Christmas Parade.