Posted on
Marathon City considers townhouses for park property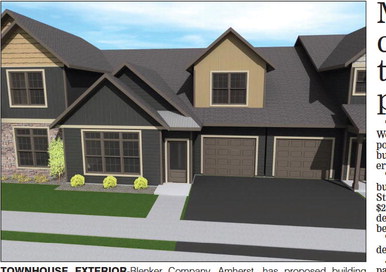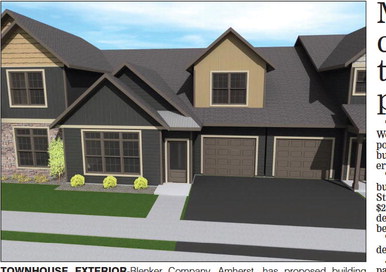 The Marathon City Village Board last week Wednesday voted to move forward with a proposal from Blenker Company, Amherst, to build 18 townhouses on what is currently Veterans Park.
The 1,400 square foot townhouses will be built in four rows between Third and Fourth Streets and could be sold at prices between $225,000 and $275,000 or, depending on market demand, rented with lease payments ranging between $1,750 and $1,850 a month.
The village would sell Veterans Park to the development company for $750,000.
Jason Blenker, representing Blenker Company, said the company had extensive experi­ence building attractive but affordable housing in Wisconsin cities, including Wausau, Stevens Point and Milwaukee.
Blenker said the target market for the townhouses would be young professionals or empty nesters who would be interested in quality housing without outside maintenance like lawn care. He said the townhouse residents would be governed by a cooperative association that would enforce covenants concerning, for example, what colors a townhouse could be painted. The association could contract for services, such as roof repair and snowplowing.
The townhouses, Blenker said, would be separated by an inch of air space so that there will be no noises going from one unit to the next, like in an apartment complex.
Blenker said his company would request the village continue Hickory Street through the current park. Cars would drive on alleys to garages located behind the townhouses.
He said Blenker Company, if its proposal is approved, would start construction of the housing in spring 2022 and would complete two eight-unit buildings by spring of the following year. Depending on market demand, the company would build another 16 townhouse units by fall of 2023.
The structures would be built on a concrete slab without a basement.
Blenker said the company plans to erect a maximum of four townhouse rows of buildings each worth $2 million for a total of $8 million.
Fay Harder, also with Blenker Company, said the rented townhouses would offer a range of amenities and features and may or may not allow pets. She said that townhouse renters and owners in other Blenker housing complexes buy a snow shovelling service for between $500 and $600 a year. "The cost is very, very reasonable," she said.
Board members were pleased with the proposal.
"It looks great," said village president David Belanger. "I love the concept."
"These units are eye catching," said trustee Keith Paul. "They look really nice."