Posted on
Edgar residents like mid-priced choice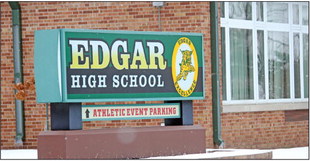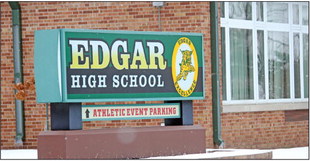 Edgar school board expected to vote on referendum
A mid-priced option was the top pick of people who returned an Edgar School District survey concerning an April referendum, it was announced last week Wednesday at a community meeting held at the school.
District bookkeeper Morgan Mueller reported that 34 percent of the 237 people who returned responses favored a referendum that asked to increase the school tax levy by $800,000 in a three-year phase in. The tax levy hike would increase revenue by $350,000, $350,000 and $100,000 over the three years.
A second favorite option was to increase the tax levy by $1.2 million in three $400,000 installments. This option received support from 31 percent of respondents.
A cheapest, $700,000 op- tion got 20 percent support in the survey. Fifteen percent of respondents selected no preference.
Mueller presented detailed tax impact data for only the second, most popular option. The district's mil rate currently is $10.30 per thousand dollars of fair market property. If the second option is approved, she said, the tax mil rate would increase to $10.53 in the first year, $10.49 in the second year and $10.48 in the third year. In the fourth and fifth year, after the district has paid off a school remodeling loan, she said, the district mil rate will drop to $7.89 and $9.07.
CESA 10 helped write and distribute the survey to 1,208 people. The survey return rate was 19.6 percent, which was said to be higher than normal. District residents who are nonparents of current students and not staff represented the biggest chunk of survey respondents, 94 people.
School district administrator Dr. Cari Guden and Mueller said they planned to visit local community groups to present information about the April 6 referendum.
People at the meeting said a citizens referendum group needed to get word out about the referendum so it will pass.
It was said that while some people will automatically vote yes or no on a school referendum, a campaign was needed to target the 80 percent of people who might vote either way depending on what information is presented.
Somebody suggested that a proposal that would be a compromise between the first and second options. School board member Corey Mueller frowned on that plan. "Last minute changes can do more harm than good," he said.
The Edgar Board of Education is expected to vote on a referendum question at its regular Wednesday, Jan. 20, meeting (tonight).