Posted on
Missing Father Bob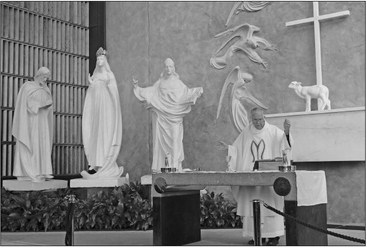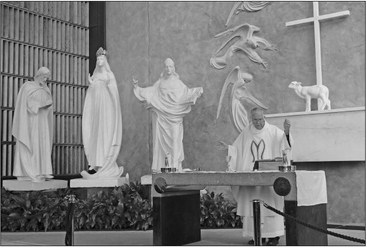 Melrose author leaned on priest for spiritual advice
For Mary Woods, faith is not knowing all of the answers. It's more about asking the right questions.
The 70-year-old Melrose woman feels blessed that for two decades she was able to ask the late Rev. Robert Streveler, a Halder native, some pointed questions on her journey through life.
"I am strong in my faith," Woods, a Catholic, said. "And Father Bob always made me feel good about being part of the church. But he made me want to learn, to expand my knowledge and read."
Woods got to know Rev. Streveler when he was a priest at St. Joseph's in Black River Falls where she, a former journalist, works in the history room of that city's public library.
She continued to communicate with him while he served as priest at St. Johns the Baptist Catholic Church, Edgar, starting in 2011, and later when he retired in 2015 to St. Anthony's Spirituality Center, Marathon City.
Streveler died there in May and Woods now deeply misses the "living saint" that was her friend and spiritual advisor.
"I am really missing him now," said Woods. "We need people like Father Bob."
Woods, a mother of two children and married for 44 years, said she and Rev. Streveler were perhaps destined to become friends because they both appreciated all things Irish. She first met the priest at a friend's funeral in Black River Falls where he conducted the service. "She loved being Irish," Woods said. "So, we took a statue of St. Patrick that was at a local church and we placed that right beside the casket."
A shared love of the Irish turned into a mini-pilgrimage through Ireland in October 2013. Seventeen people went on the trip.
The idea for the adventure started with an old Woods family story. The tale was that her grandfather, Edward Crossen, County Donegal, Ireland, was born blind, but gained his sight after visiting a local well.
Upon hearing that story, Rev. Streveler, whose godmother was Irish, told Woods that if she ever located that miraculous well he and she would go to Ireland.
After some digging, Woods discovered there was a well known to cure blindness in Letterkinny, a town in Donegal. It was located not too far from her grandfather's ancestral home.
She returned to Streveler with her discovery and an announcement.
"Are you ready?" she asked. "Let's go!"
Arriving in Ireland, the Americans, travelling by tour bus, found the well in a cow pasture.
They also found, said Woods, spiritual renewal in a journey across the green hills of Ireland "that was just a beautiful thing to do."
Woods said she continued to visit Rev. Streveler when he retired to St. Anthony's and attended retreats where he was a speaker. She would make minor requests of him, for example, asking for a reading list for a local church book club, and more major requests, such as when she asked him to tell her why she was haunted by a strong feeling that she was going to die.
Later, in 2016, Woods leaned on the priest after she was diagnosed with pancreatic cancer and, unlike her brother, became one of the few people who survives this illness.
"He was my spiritual rock," said Woods. "I could call him at 3 a.m. and he'd answer the phone. He was always there."
Woods said that she was shocked but not surprised to hear from her sister, Margaret Meacham, Marathon City, that Rev. Streveler had died. She had had a premonition of his passing.
Still, Woods said, she felt the sharp sting of loss. "There was so much I would have liked to talk to him about," she said.
Woods said many people don't talk about their faith and religion, but, kept inside, it's hard for that faith to grow.
She said she appreciates having been able to turn to someone as knowledgeable as Rev. Streveler for a crucial life dialogue.
"He was such a good person," said Woods. "I wish he were around."
Mary Woods has authored a book, "Coincidences of Cancer: The Power of Faith, Hope and Believing in Miracles," that describes how she survived pancreatic cancer. She has dedicated the book to The Rev. Bob Streveler. Woods can be contacted at 608-488-5981.