Posted on
Looking back at 100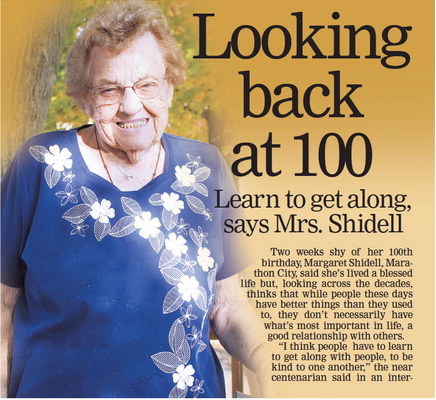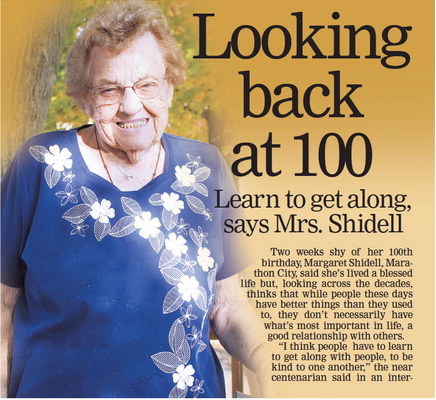 Learn to get along, says Mrs. Shidell
Two weeks shy of her 100th birthday, Margaret Shidell, Marathon City, said she's lived a blessed life but, looking across the decades, thinks that while people these days have better things than they used to, they don't necessarily have what's most important in life, a good relationship with others. "I think people have to learn to get along with people, to be kind to one another," the near centenarian said in an inter­view from her long-time family home across the street from Marathon High School. "That's missing a lot today. I think if people would do that, the rest will come."
Shidell was born Oct. 23, 1920, in Marathon City, the daughter of Peter and Lena (Schlagenhaft) Bingen.
Her early years were spent growing up in a family that had part ownership of Marathon's general store. The establishment, Richter and Bingen, was located in the large brick building located on Main Street south of the Pizza Market. She grew up with two sisters and two brothers.
The family's retail way of life ended in 1936 when a fire broke out at the store. Health problems plagued the two store owners. Bingen suffered paralysis; Richter developed cancer. The retail shop was sold to Al Straub.
Shidell attended Marathon High school, where she was a member of the girls basketball team and Glee Club, and graduated in 1937 as a 16-year-old. She did housework in Marathon City and Wausau until she landed a job working at Kreges' Five and Ten Cent Store in Wausau.
In 1941, Margaret married Joseph Shidell at St. Mary's Catholic Church, Marathon, after a courtship where the couple enjoyed free dances held at the Rib River Ballroom and Poplar Tree Ballroom.
Mr. Shidell entered the Navy in 1943 and, for two years, worked on a destroyer in the South Pacific during World War II.
The couple had four children. They are Sharon, Norbert, Mary and Michael.
"All of them went to St. Mary's Catholic School," said Margaget Shidell. "And they all graduated from Marathon High School."
Shidell said the best president during her lifetime was Franklin Delano Roosevelt ("he did a lot of really good things") and the best inventions were the television and the refrigerator.
Mrs. Shidell said she's lived a great life.
"Definitely, I've lived a beautiful life," she said. "I have been really blessed to live the life I have. I love my church and I love Marathon. I have lots and lots of friends here. And I love the Packers."
Shidell said one of these great friends is her sister, Norma Socha, 97, Edgar, who she speaks to every day.
"She is my special," she said.
Shidell said she is happy to have a large family with 11 grandchildren and 20 great-grandchildren. "We have a lot of get-togethers during the holidays," she said.
The almost 100-year-old said she, like the rest of her generation, lived through World War II and the Depression, but never resented it.
"We were poor but we never felt poor," she said. "Back then, nobody was better than anybody else. Everybody got along really good. I'd say those Depression years were the best years of my life."
Shidell said today's young people have every material item they could dream of, but she feels sorry for them.
"Yes, I do," she said. "I feel sorry for my grandchildren and great-grandchildren. They miss out on so much."
Shidell said her early years in Marathon City were wondrous. She enjoyed a healthy family life and ice skating, sleigh rides and sledding down the village's steep hill with neighbor children.
"We didn't have the stuff they have now, but we thought we had everything," she recalled. "And we did."