Posted on
Local grad describes life at UW during COVID-19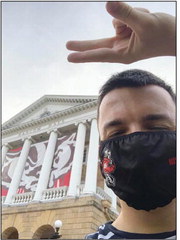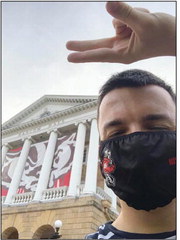 The first month on campus for any college freshman is typically an exhilarating feeling. Students are on their own for the very first time, free of their parents' watchful eyes, and free to pursue their own goals and careers.
Football games, fraternities, signing up for new clubs and learning where your classes are tend to be the norm the first month of school.
But 2020 is far from a normal year, and for millions of college freshmen across the country, this first semester is one full of uncertainty, and perhaps a small measure of dread, as COVID-19 cases surge on college campuses across the U.S.
There's also the feeling that they are missing out on something special, some rite of passage that others received but one that they will never have. For many college freshmen, that scares them more than the coronavirus.
"Being here, amid a pandemic, it feels like this first year has been stolen from me," says Michael Decker, a class of 2020 grad from Colby High and current freshman at UW-Madison.
"I always hear from upperclassmen how awesome freshman year is, the gatherings, the social events, going to the Union and participating in clubs and how fun and how great an experience that was. I was kind of robbed of that."
Across the state of Wisconsin, college campuses everywhere are seeing spikes in COVID-19 cases, and the fear is that one day soon, students will be packing their bags, heading back home, and forced to spend another semester - much like their final one in high school - doing online instruction.
"We had in-person class for not even two weeks, and that was stripped away. It's been very difficult to meet new people . . . that's really limited in this environment."
Decker is living in Madison, a city whose 250,000 residents far outweighs the roughly 2,000 that live in Colby, where Decker spent his youth.
Even with the possibility of going back home and the threat of having to leave Madison, Decker says he's been enjoying his time and his classes — which are a hybrid of in-person and online.
"I'm still really happy that I went. I wanted to get out on my own and experience more independence and I still definitely achieved that goal and I would do it again in a heartbeat. I love Madison and I know that I am going to the best university in the state and getting a great quality of education."
But even so, the coronavirus never seems very far away, and always hovers over everything Decker and his fellow freshmen do while in the dorms and in school.
"There's a constant looming, like in the air, a presence. I remember I was going to eat breakfast and hearing three girl talking about how four people in our dorms have COVID-19."
Decker says health officials on campus are doing everything they can to curb the spread of COVID-19, even as Wisconsin's percentage of positive test results skyrockets and cases across the state have topped over 100,000.
Decker says he's taken four COVID-19 tests, which are readily available on campus, since he moved into Sullivan Hall in early September. The campus has also implemented an online dashboard to keep track of new cases, and has an entire dorm to keep COVID-positive students isolated from their fellow students.
Decker says he's also noticed a big difference in how people in Madison treat the virus versus back home in Colby.
"It was a stark difference going from Colby, where I would see people without a mask wherever I go, and then here, in Madison, people walk with masks alone and wherever they go. People have a health-conscious attitude that is very different from Colby."
Decker does admit from time to time that when he leaves the dorms he'll forget his mask, and he says he hears about some students who are going out to parties, but he says that's the minority of college freshmen.
"For the most part, the majority of the kids know you have to take precautions and, of course, you have your kids that think they should not have to wear a mask and have some convoluted rules why they should not follow it."
With his first month now under his belt, Decker knows every week he's on campus is a blessing. Even with the hope of a vaccine on the horizon, he's not sure if his second semester will be much different from his first, but the quality of education and experience of being on his own is worth it.
"The faculty here are fantastic at their jobs and they have a passion for what they are doing. I love my classes and am happy to be here. Even though it is diminished in a sense, I am still really lucky to be learning from these people and to be experiencing Madison."