Posted on
County posts data dashboard as COVID case numbers rise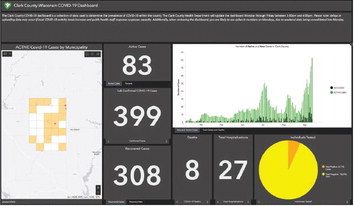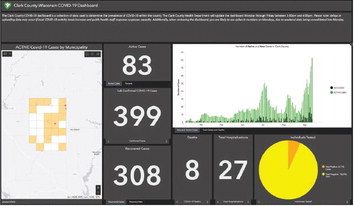 The Clark County Health Department (CCHD) and its local partners have created an online data dashboard that is now available on the Clark County website: www.clarkcounty. wi.gov/covid-19. The new information is being posted as the number of active virus cases in the county is taking a significant jump.
The Clark County COVID-19 dashboard is a collection of data used to determine the prevalence of COVID-19 within the county. The CCHD will update the dashboard Monday through Friday between 2-4 p.m. Please note: delays in uploading data may occur if local COVID-19 activity levels increase and public health staff response surpasses capacity. Additionally, when reviewing the dashboard, you are likely to see spikes on Mondays, due to weekend data being consolidated into Monday. To allow time for current data to be uploaded daily on the dashboard, numbers reported each day will be current to 8:00am.
What is included on the Data Dashboard?
-- Active COVID-19 Cases by Municipality (Map) -- Number of Active Cases -- Percent of Active Cases -- Total Number of Confirmed Cases -- Total Number of Negative Test Results -- Rate of Incidence (Percent Tested Positive) -- Total Number of Recovered Cases -- Recover Rate (Percent Recovered) -- Total Number of Deaths -- Percent of Deaths -- Total Number of Hospitalizations -- Number Currently Hospitalized -- Total Number not Hospitalized -- Percent of Deaths after Hospitalization -- Graphs and Charts Additionally, there are new resources available on the COVID-19 page on the Clark County website. Some of these resources include isolation and quarantine information, school resources, business resources, etc.
Clark County has seen a significant rise in COVID-19 frequency in the last few weeks. In total, the number of positive tests reported to the county went from 331 on Sept. 22 to 407 in the span of a week. The number of active cases -- those for which a patient is deemed to be infectious and in need of isolation -- went from 46 on Sept. 21 to 83 a week later. There were a little more than 200 people on active quarantine in the county as of Sept. 21, but that number had risen to 399 by early this week, according to the data dashboard information.