Posted on
Rib Lake firefighter answers his final call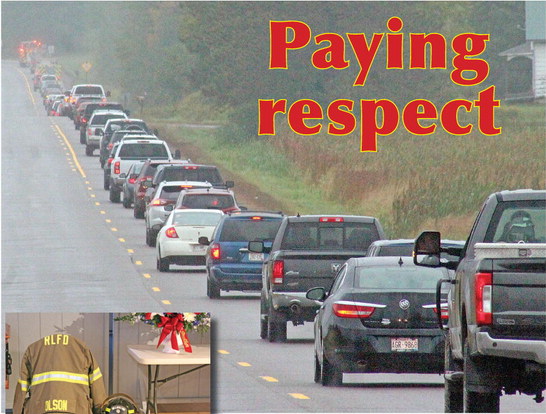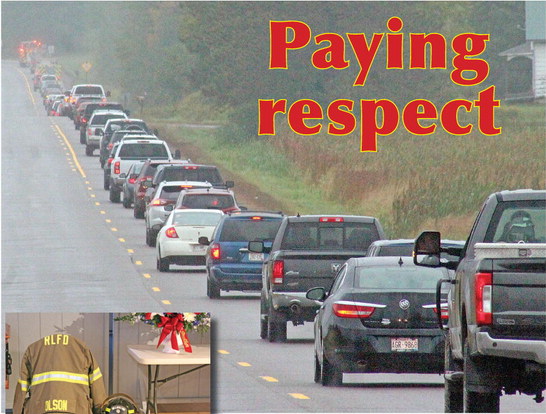 Saturday morning's cool gray mist was fitting as friends, family and community members gathered in Rib Lake to pay their final respects to firefighter Tim "Boomer" Olson.
Olson, age 55, passed away unexpectedly on September 5. On Saturday morning, he was laid to rest at Lakeview Cemetery in Rib Lake.
Olson was an active firefighter on the Rib Lake department and his death deeply impacted his fellow emergency responders. Prior to the graveside services, the fire department with the assistance of the Taylor County Sheriff's Department Dispatch Center conducted a "Last Call Ceremony."
Firefighters from area departments stood at attention along the walls of Zondlo's Ballroom in rapt attention, all eyes focused on Olson's casket and his turnout gear arranged as if awaiting him to quickly put it on and head to a fire call. Between the firefighters were hundreds of friends and family sitting in absolute silence waiting for the crackle of the radio and the dispatcher's call for a response from the fallen firefighter. The page was repeated three times with a deafening silence between each call. Following the third call, the dispatcher announced that firefighter Tim Olson has answered his last call. Following the call, fire chief Russ Bullis made a presentation to Olson's children.
Olson's casket was loaded into the hearse and escorted by a procession of fire engines and emergency responders from as far away as Mosinee, the mourners made their way to Lakeview Cemetery in the process making one final pass by the Rib Lake Fire Hall. The procession stretched for nearly a mile. Westboro firefi ghters provided traffic control on Hwy 102 during the procession.
As ceremonies go, it was a simple, but moving one and fitting for someone who served their community long and well. "I never had to do one of these before I hope I never have to again. This death has hit the department very hard," Bullis said. "The healing process will take time but with great community support we will slowly get through this."