Posted on
New ballpark complex planned for Marathon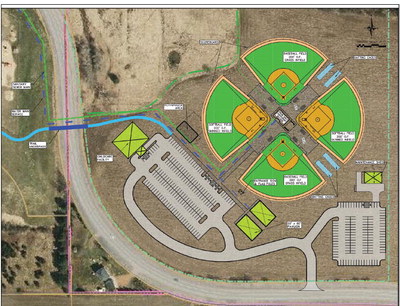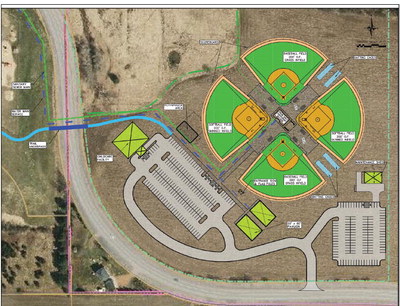 Village would sell Veterans Park for "redevelopment"
Village of Marathon City administrator Andy Kurtz announced Monday the village plans to sell Veterans Park and use the proceeds, along with "significant" community donations, to develop a $3.5 million softball and baseball complex on 14 acres of farmland east of CTH NN currently owned by the Catherine Baumann Trust. The complex will have two parking lots and serve as the site for future Fun Days, the administrator said. The village plans to share the larger of the two parking lots with St. Matthew's Evangelical Lutheran Church, Marathon, which plans to build and operate an 8,000 square foot day care center that could serve 75 children.
The proposal is to build two softball fields and two baseball fields, a press box with a view of all four fields and a maintenance shed to store field equipment.
Kurtz said the village could possibly sell a small, softball field on Chestnut St. to Marathon Cheese Corp., which, in the middle of a 140,000 square foot expansion, has expressed interest in the property. The village would sell Veterans Park west of Chestnut Street to unnamed parties who, according to Kurtz, would use the property for "redevelopment."
Kurtz said the Marathon City Village Board has voiced interest in developing another softball/baseball complex for several years and, in a recent budget meeting, tasked him with putting together a package deal to make it happen.
A vote on the proposed baseball/softball fields and day care center will be part of 2021 budget deliberations scheduled for November, he said.
Kurtz said his goal is that the project be "budget neutral" to the village. He plans to seek grants from national softball and baseball associations for funding According to an announced schedule, St. Matthew's would purchase 25 acres of the Baumann property and ask that it be annexed from the town of Marathon into the village. It is anticipated the annexation will be completed by Dec. 31. The church would, in turn, sell 14 acres of its purchased land to the village for the softball/baseball complex. Project construction would start in spring 2021 and wrap up by fall of next year.
Kurtz said the proposal is a good example of the village working with private organizations to achieve community goals. "We appreciate the opportunity to work with our community members to bring these opportunities from concept to reality and look forward to developing other partnerships and projects," he said.
Village president David Belanger said relocating the village's park will benefit the Marathon community. "The joint planning efforts we have had are intended to improve services and opportunity within our community," he said. "The child care facility and Veteran's Park relocation are part of the broader plan for growth and sustainability of the village. We look forward to the next phase in these efforts."
Jerry Natzke, a spokesperson for St. Matthew's Child Care, said he looks forward to locating a planned child care center next to a village park. "The Child Care Center was a vision for growth of the greater Marathon community, and where better to start than with our youngest community members," he said. "This location is ideal for our families' needs and surrounding our center with a beautiful new park gives us a green space for the children to enjoy."
To pursue the project, the village will need to get a drive access permit off of CTH NN and permission to install a lighted pedestrian walkway underneath the road.
Marathon County Highway Commissioner Jim Griesbach on Tuesday said the county highway department would likely have no problem granting permission for the below-the-road pedestrian tunnel or the driveway access.
The driveway access, he said, is located where an agricultural driveway was approved five years ago.